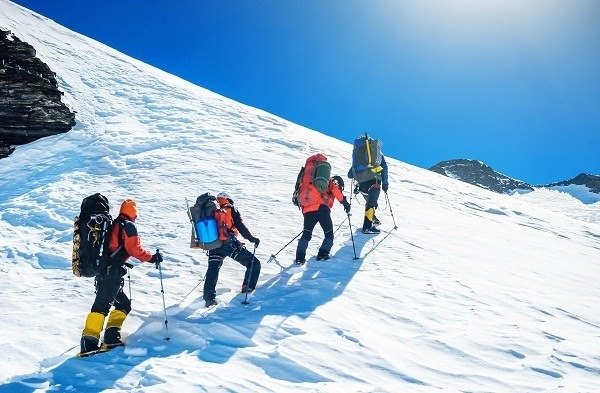 Why Trekking With Us?
When planning a vacation, there are certain things you will want to know about the company you choose to travel with. Are they experienced? Are they financially secured? Do they provide good value for your money? We have been 21 years as a trekking guide all over the high Himalaya in Nepal collects all kinds of trekking Experience then now we are in your service .
Your satisfaction is our top priority
we strongly believe that memorable and pleasant experience is the ultimate goal of your precious holiday time.
We provide an complete array of trekking and tour packages that can be customized according to your interests and budget. Whether you are looking for breathtaking views along the trekking trails in Himalayan mountain range or world-renowned, spiritual attractions with enrich cultures, our expertise in travel business will help you make sure your needs are met.
Your health and safety are always our concern. Our professional guides pay extra attention to your health in order to reduce chances of any undesirable events due to foods, drinks or high altitude.
Professional-yet-friendly staff
We believe that great staff lead great service. That's why we are teamed with experienced and enthusiastic staff. We only provided you with licensed and government certified guides who are well-equipped with extensive knowledge of local areas and cultures. They also have fluent English communication skills and organisational abilities to facilitate all trekking groups of any sizes.
Nepal Himalayan Sherpa Adventure is a business built on relationships because people are key to make the biggest difference. Hence, all our staff including guides, porters and drivers have been treated fairly as follow:
-Both guides and porters are provided with insurance and medical care, if needed, during the expedition.

-They have free access to required equipment's for high altitude trekking.

-Their salaries and wages are above average.

-They are free to join any trade union.

-Weight limit for our porter is 20 kilograms.

-All porters are supported and encouraged to acquire valuable experience to be potential guides in the future
Fairness, honesty and reliability
Apart from enthusiasm, expertise and experience, competitive price and honest, reliable operation are our reputation. We offer price fairness to every tourist to ensure everyone can enjoy our beloved country. These are our policies and company value since we first operated.
Also we offer money-back guarantee in case you encounter poor services due to our staff. We are very confident of our reliable operation and service-minded people.
Eco-tourism and social responsibility
We are attempting to reduce the impact of tourism by ensuring our staff are well aware of environmental issues. We are doing our best to produce less garbage as possible and make sure to take back non-compostable garbage. Also, we are sticking to renewable resources of energy.
Our guides will share you the local cultures, expectation and tolerance for better understanding and engaging with the communities you visit.

In addition to eco-sustainable practices we employ in our daily basis, Nepal Himalayan Sherpa Adventure runs activities to promote positive contributions to the conservation of natural and cultural heritage such as sponsoring recycling projects, contributing necessity goods to the schools and locals in far area, etc.
We are very proud to be part of sustainable development with the hope for maintaining our naturally beautiful nation.
Tailored Routes and Groups
There are still several potential trekking routes under discovery and Nepainitiates to explore such routes and establish them as viable alternatives. We also manage small groups on demand, which contributes to the organization of our Trek-climbing / tours in a more productive way. We guarantee that during the travel period with our team you will feel as if you are travelling with your own family members because We are attentive and serious to satisfy your individual needs,We can provide you with a very special care, since the group doesn't accommodate too many members,In each of our trip,we allow you some free time without any intervention except in need to explore around and please yourselfand You will have a wonderful experience of an independent time.
Safety: Evacuation Management and Rescue
All our staff members are pretty aware of the fact that safety comes first. Our high spirit team is always aware of the safety of the Guests and their own as well. We suggest our client to do medical insurance from their country.We are conscious of Workers' Rights and Humanitarian Aid All our Guides, Porters & all other staff members have free Medical Care when they get ill or injured during the course of tour. To ensure their safety, we have insurance policies for each of our employee.We provide our guides and porters and all the staff members with accommodation; tents with sleeping gears and also, food and warm drinks, whereas other competitors have never initiated this.We provide appropriate clothing according to the season and altitude such as, windproof jackets, trousers, fleeces, long johns, comfortable foot wears with suitable socks, hats, gloves and sunglasses which ensuremaximum protection from cold, rain and snow. This proves that all our staff members are paid as per our labor law of Nepal and UNO. Furthermore, they are also benefited with bonus & other facilities.

Responsible Tourism
We not only operate Trekking ,Tour, climbing & other service but have a very strong growth of a feeling of helping the needy. This is something we tend to do differently. We invest 25 percent of our profit margin in charity funding. Currently, we are looking after a school where we have been solely responsible for the construction of the school building, provide the needy students with scholarships and fellowships, support the needy with stationery and school uniforms and other material like football & others.
Being environmentally friendly & given emphasis on Eco-tourism, we have already proven our outstanding and quality service but we are also aware of responsible tourism;we employ local youths and use locally growth foods & vegetables. We also organize social awareness programs and environmental campaigns.
Client First
This is our very first motif cum strategy because we believe in the saying 'AtithiDeboBhava:' which means 'Guests are like gods'. Our highly professional staff members are committed to better serving you. We believe that the customer is always right.

Experience
It's not simply a claim but we have been in the field of Adventure Tourism for over 2 decades. We assure our valued clients that experiences definitely mean something worth it when you find yourself in critical situations. The optimum enjoyment of the trips may be experienced only when you are accompanied by experienced professionals.

Highly Professional and Skilled Guides
The Trek/Tour/climbing guides we have appointed are highly professional, active, sincere and up-to-date. They have wide range of knowledge regarding trip operations and are able to communicate in around many international languages, and every individual is pretty aware of their duty and the time table. Most importantly, they respect the professionalism.

Committed To Ensure Satisfaction
The entire Beyond the Limits Treks and Expedition family is well acquainted with what clients exactly look for. Thus, we affirm that we are committed to ensure your satisfaction.
Best Service for best price
The price of each package has been determined scientifically after conducting a survey by professionals. We assure you that the prices we offer are incomparable and are of best value.

Special Packages
we explores the potential sites for new trekking routes and other possible ways of Adventure Tourism as well as nature and cultural tourism.

Tours Operated by Youths
The Trek ,tour packages operated by Nepal Himalayan Sherpa Adventure encourages the youths. Moreover, the local youths are always in demand provided they are fit and healthy. We train the inexperienced youths with strong motif of potential to make them professionals.