ANNAPURNA base CAMP TREKKING MAP: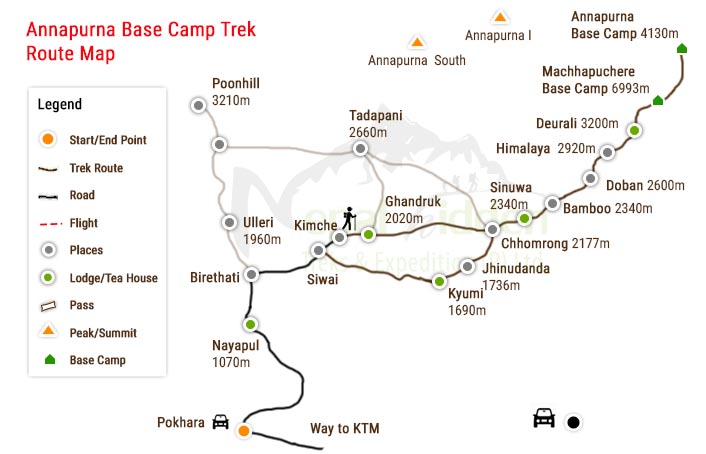 Annapurna Base Camp Trek is a trip that introduces us to an exceptional ecosystem that's well balanced and on this trip we experience the beauty of Mother Nature at its real best. The Annapurna base camp trek is one of the beautiful treks in Annapurna area. The fabulous mountain scenery & the rich cultural diversity traverses across a wide spectrum of lush rural farmlands and pretty villages where we see the local women folk humming romantic tunes while on their daily chores & cows with vermilion splattered foreheads that seem to be smiling at you in a hearty welcome to their home turf; the trail heads towards a deep gorge that slices between 2 peaks – Mt. Hiunchuli & the famous sacred Machhapuchre peak [fishtail] as we head through dense bamboo and rhododendron forest by the narrow Modi Khola [river] valley & the landscapes we witness on the way warm our beating hearts.
Our trail finally comes to the Annapurna base camp sanctuary with its enormous walled mountain fortress. Annapurna base camp was first discovered by the British explorer Col. James O.M. 'Jimmy' Roberts in the year 1956 and shown to the world as the 'Sanctuary of Gods'. The Sanctuary then became the "Annapurna Sanctuary". The prime peaks of the western portion of the great Annapurna Himal, including Hiunchuli (6,441m), Annapurna South (7279m), Fang, Annapurna I (8091m), Ganagapurna (7485m), Annapurna III (7855m) and Machapuchhare (6993m), are geographically placed accurately in a circle about 10 miles in diameter with a deep glacier covered amphitheater in the center
This wonderful trek explores diverse ethnic groups and their interesting cultures, the local communities found here are Gurung, Magar, Thakali and we are warmly welcomed by these local tribes; blended with this is a glimpse of beautiful flora and fauna found in this area. Our sublime trek begins from the pretty village of Ghandruk as we hike the trails via Chomrong, Bamboo & Deurali to reach Annapurna Base Camp & we revert back to Pokhara via Jhinu Danda & Pothana, on the way we haul up at Jhinu Danda to soak of the sweat of our bodies in the healthy hotsprings found there & then head back to Pokhara to chill out by the serene lake. On this trek, we bunk out in cozy teahouse lodges & enjoy the sumptuous apple pies found here. This is a 'must do' trek at least once in a lifetime.