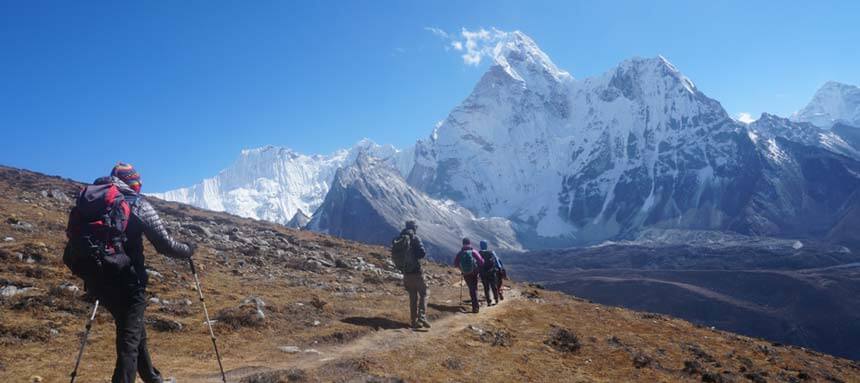 Trekking in Nepal in February
Are you thinking about trekking in Nepal in February?
It's almost impossible to say what is the best time to explore Nepal. Our little country is simply amazing year around.
However, trekking in Nepal in February is absolutely possible. It is really doable. It isn't too harsh. Also, the winter scenery is even more spectacular, with clear skies and excellent mountain views.
There's something special about trekking in Nepal in February. When you see the world covered in a blanket of snow, it just adds a beauty.
February is a good time to trek. It is not high season as spring (March-May) and autumn (October-December).
In Nepal, winter months can mean lots of different things, depending on your interest and the part of the country where you choose to visit.
Trekking in Nepal in February can be a beautiful experience. Walking on the top of snow, viewing frozen rivers and waterfalls all present memorable experience.
But, a little different approach is needed for trekking in Nepal in February.
Don't worry we're here to serve you!!!
There are almost endless options for trekking in Nepal in February.
Weather Conditions of Nepal in February
Trekking in Nepal in February becomes quite challenging when you consider the weather. Despite this trekking is always fun, no matter which weather you go in.
Although, it'll be good to know the local weather conditions before getting to that particular trekking area.
You've to be absolutely prepared when you go in adventure trekking trip, especially if you're traveling during the frosting winter.
Nepal experience four distinct seasons; spring, summer, autumn, and winter.
Nepal usually experiences a short winter. So, if you visit Nepal in late February, you'll likely experience mild to warm temperatures.
February is one of the dry months in Nepal, so there are little rain and snow. During February, the temperatures of Kathmandu valley might range from 4°C-19°C which is tolerable.
Likewise, the temperatures of Pokhara valley might range from 9°C-12°C. Also, the temperatures of Jomsom valley might range from 1°C-13°C.
The temperatures above 4000 m go below -5°C. Most people from the higher elevation migrate to the warmer lower elevations.
Despite this, you'll witness the best skies making a very good trekking time for the Nepal Himalayas.
Looking forward to care you in Himalaya !!!
Contact Us for more more information.
We, Friendly and Experienced management Team, are here to help you for choosing the right trekking packages. We offer custom trekking packages to suit your needs and schedule.
Simply give us a call, drop us an e-mail or contact us using the the web enquiry form.
We will get back to you immediately with quick responses to all of your inquiries. We will provide you with all the information that you need to know before you set off for Nepal Himalaya.
With Best Regards,
Ms. SUNITA TAMANG (Trekking Tour Manager)
"Proudly in effort of Woman Empowerment providing employment to Local Female Trekking Guide & Creating Employment to opportunities Youths"
Why to Choose us for Booking your Trip in Nepal​?
Nepal Female Trekking Guide