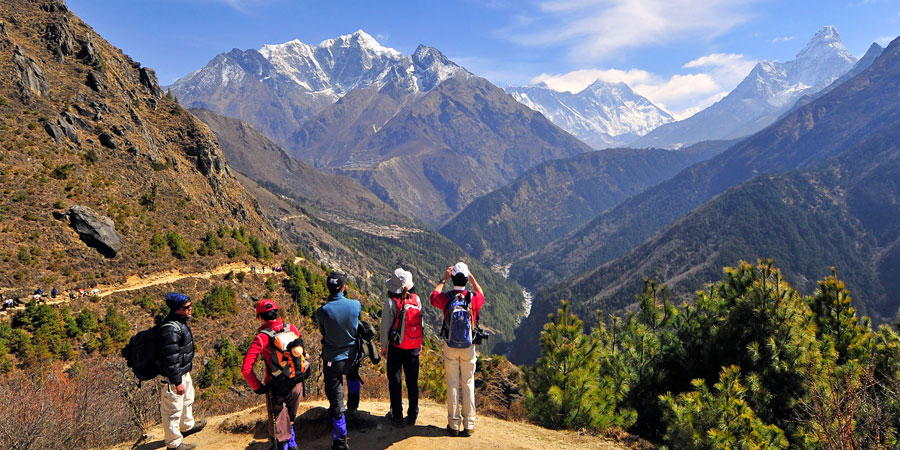 Trekking in Nepal
(13 NIGHTS 14 DAYS Package Tour)
Price per person: US Dollar Eight Hundred only
Overview:
Nepal Himalayan Sherpa Adventure features some well-designed and comprehensive travel packages harmonizing the natural beauty and cultural diversity of Nepal. We have been showing our customers the best of Nepal since 2011 and are working on making their dream vacations a true reality. Our packages are flexible, involves great fun and covers all the areas of Nepal. With experienced and knowledgeable team like ours, a hassle free vacation is guaranteed. All you have to do is sit back and relish the best services you can get in Nepal. Our services ranges from tour planning to its arrangements. When it comes to accommodation, transportation, foods and guiding service, extensive information on other trekking regions, which are accessible by domestic flights, such as Kanchenjunga, Makalu, Dolpo, and the Far It is important for tourists to know that the main income generating activity of the people from the hill regions is tourism, and they typically earn wages working as trekking porter or guide. Hiring a porter does not mean that you are weak, it means you value the Nepali culture, you are providing an extended Nepali family with an income and at the same time you are making a friend and trekking with a local person who is well versed in the local cultures, festivals, and all the other issues that can turn a good trek into an outstanding experience of a life time.

Trekking in Nepal is one of the most popular tourism activities and is one of the special sports for mountain lovers. Trekking is obviously one of the best ways to experience the natural beauty, diverse cultural heritages, and varied geographic conditions of this country. That is why thousands of trekkers visit here every year to capture the scenic views and explore the spirit of adventure. Trekking is not just walking up mountains; it is the gradual way of experiencing the diversity of religion, culture, language, ethnicity and geography of the country.
Nepal is known as the paradise and the best destination for trekkers in the world, as it has some of the most spectacular trekking routes. The trekking here in the high mountain range can either be a one day adventure or a month or more hiking, passing through villages in the shadow of towering snowy peaks and valleys. The trekking routes pass through the forest that is full of rhododendron and through the sub tropical region to alpine and different landscapes, lush alpine meadows and rocky snow covered passes, ice falls, glaciers, high altitude and frozen lakes.
Therefore, when you go trekking in Nepal, you get a chance to see not only the nature, but also the rural communities and spectacular mountains. Thus, trekking here is a journey to explore yet unexplored places, the variety of culture, religion, festivals and castes, diverse lifestyle of friendly people belonging to diverse ethnic groups inhabiting in the mountain region. The hospitality of the people living in the mountains enchants trekkers in such a way that they come again and again and build fondest memories of Nepal throughout their life. Bearing these in mind, the Advent Himalaya Treks, offers such a service to its clients that everyone can make their holiday the most memorable and fondest in their lives.
The Best of Nepal Trekking tour lets you experience all that Nepal has to offer: excellent trekking, safe whitewater rafting, stunning wildlife safaris, history and culture.
Detials Itinerary
DAY 1 - KATHMANDU: ARRIVAL DAY
Welcome to Nepal and the start of our adventure! One of our Airport Representatives will be on hand to greet you when your plane lands and transfer you to your hotel in Kathmandu. We'll have a final briefing in the evening and then turn in early in advance of a big day tomorrow.

DAY 2 - KATHMANDU TO POKHARA
It's time to kick off our journey! The first leg of this adventure is a 6-hour bus ride from Kathmandu to Pokhara, where you'll rest up for our first day of trekking! We'll have a final briefing in the evening to go over details and answer any last-minute questions.

DAY 3 - POKHARA TO NAYAPUL, NAYAPUL TO TIKHE DHUNGA
Elevation: 1,480m/4,855ft
Approximate Time: 3-4 hours

The day starts with a transfer to Nayapul which is about one hour drive from Pokhara, where we'll take the first steps of our trek. The walking is easy at this stage, as we stroll through the Modi Khola River Valley. We trek to the small village of Tikhe Dhunga to spend the night.


DAY 4 - TIKHE DHUNGA TO GHOREPANI
Elevation: 2,974m/9,429ft
Approximate Time: 7-8 hours

From Tikhe Dhunga we'll cross a stream as the warm up to ascending the steep stone staircase to the scenic, quaint Magar Village at Ulleri. After lunch, our route wends through glorious blooms of rhododendron and imposing oak forests. We'll move slightly upwards in the direction of Nangethanti before scaling towards Ghorepani for dinner and sleep.


DAY 5 - GHOREPANI TO TADAPANI, WITH EXCURSION TO POON HILL
Elevation: 3,210m/10,531ft
Approximate Time: 6-7 hours

We'll be up before dawn today, but with good reason: our day kicks off with an excursion to Poon Hill and an indescribably wonderful panorama of three Himalayan peaks (Dhaulagiri I, Annapurna I, and Manalsu) illuminated by the glowing rays of sunrise. From here, we'll also be treated to views of the 6,000m-deep Kali Gandaki Gorge and the visual border of Nepal and Tibet as divided by the trans-Himalayan ranges. It's back to our lodge for a late breakfast, and then we're back on the trekking path! Our legs get a bit of a rest on the downhill walk towards lunch at Bathanti, which takes us through beautiful, deep forests, and then to Tadapani.


DAY 6 - TADAPANI TO CHHOMRONG
Elevation: 2,170m/7,119ft
Approximate Time: 5-6 hours

More downhill walking awaits us today as we again trek rhododendron and oak forests. We'll arrive at the lofty Gurung village of Chhomrong by lunchtime, giving you a bit of time to explore the fantastic views of Annapurna South and Machhapuchhre.


DAY 7 - CHHOMRONG TO DOBAN
Elevation: 2,600m/8,530ft
Approximate Time: 5-6 hours

Another precipitous stone staircase guides our way today as we descend towards the Chhomrong Khola. We shift gears at that point and will climb in the direction of Modi Khola, traveling its west bank, and pass through leafy bamboo forests. More upward travel awaits us in the afternoon as we head towards Kuldi and then another staircase down to Dovan, where we'll rest after a vigorous day.


DAY 8 - DOBAN TO ANNAPURNA BASE CAMP
Elevation: 4,237m/13,549ft
Approximate Time: 7-8 hours

You'll feel the bite of the thin air today as we climb high above our starting point of Dovan, overlooking a river far below. We'll scale the lateral moraine of a shimmering glacier and then come down the other side to the glacier bed before reaching the Annapurna Base Camp. A breathtaking 4,237m above sea level, this is our stopping point for the night.

It's time to reap the rewards of your hard trekking work! Miles above earth, we have all day today to wander the base camp and drink in the beauty and majesty of Annapurna. The sunrise and sunset are spectacular displays of natural theatre, and not to be missed. Make sure your camera is charged!


DAY 9 - ANNAPURNA BASE CAMP TO BAMBOO
Elevation: 2,310m/7,578ft
Approximate Time: 5-6 hours

We'll savor one last fiery Annapurna sunrise before beginning our trek down the mountain. Our route today ends in the village of Bamboo, named for the dense forest of tall bamboo that surrounds it.


DAY 10 - BAMBOO TO CHHOMRONG
Elevation: 2,170m/7,119ft
Approximate Time: 6-7 hours

The stone staircases and their steep, unforgiving steps await us once again! We'll trek the bamboo forest, passing vibrant blooms of rhododendron, on our way to Kuldi. After lunch, we pass through Sinuwa and Modi Khola before an invigorating uphill climb towards Chomrong.


DAY 11 - CHHOMRONG TO GHANDRUNG
Elevation: 1,940m/6,364ft
Approximate Time: 5-6 hours

From Chhomrong, we head back to Taglung, descending slowly through a forest to Kummu. It's back towards Ghandrung and one more hypnotically-lovely panorama of Annapurna South before our last night on the mountain.


DAY 12 - GHANDRUNG TO POKHARA
Elevation: 827m/2,713ft
Approximate Time: 7-8 hours

The end of our trek is in sight. Villages and terraced fields dot the landscape at these lower altitudes, adding interest and variety to our last morning on the mountain. We'll pass through Syauli Bazaar and Nayapul before catching a ride back to Pokhara, where the comforts of a hotel ensconce you after a long and tiring journey.

The extraordinary natural beauty of Pokhara frames your penultimate adventure day, which is dedicated to exploring the town. Pokhara feels almost sublimely tranquil, with the sacred, fishtailed peak of Machhapuchhre rising behind it and the shining waters of Phewa Lake within its heart. Pokhara is at a lower elevation than Kathmandu, and, accordingly, has a balmier - almost tropical - climate, which has given rise to a riotous proliferation of flowers. Uncover Pokhara's secrets at length as you drink in glorious views of the Himalaya range.


DAY 13 - POKHARA TO KATHMANDU
The 25 minute flight from Pokhara to Kathmandu brings us back the way we originally came, ending again in a comfortable hotel. Your conquest of the Himalayas is complete: it's time for some rest! After an afternoon to nap and relax, we'll meet up one last time for a celebratory dinner at one of the town's finest Nepalese restaurants, where you can give us your feedback on the trek. In the morning, we'll make sure you catch your flight home with time to spare.


DAY 14 - KATHMANDU: DEPARTURE DAY
It's your last day in Nepal! Grab some breakfast, and then take in some last-minute shopping in Kathmandu. We'll make sure you arrive at Kathmandu International Airport with plenty time before your flight home. At this time, we'll say our goodbyes and bid you farewell, armed with warm memories and gorgeous photos to show your loved ones. END OF OUR SERVICES
WHAT'S INCLUDED IN Price?
· All airport transfers from arrival to departure
· Two nights of deluxe accommodation in Kathmandu
· Two nights of deluxe accommodation in Pokhara
· Bus service between Pokhara and Kathmandu
· Private, round-trip land transportation between Pokhara and Nayapul
· Lodge accommodation and three meals a day while trekking
· One way flight to Pokhara
· Friendly and experiened Trekking Guide and his/her all wasges, tranporation, food, accomodation, trekkin equipemnt and travel insurance
. Trekking crews to carry your luggage on trekking and his/her all wasges, tranporation, food, accomodation, trekkin equipemnt and travel insurance
· All applicable permits
· TIMS card
· Government taxes, entrance fee, equipment fee, and other applicable fees
· First aid kit
Enjoy your next holiday in Nepal with us!!!
E-mail us: nepalhimalayanadventure@gmail.com to book this trip.
kewworlds:Trekking in Nepal, Trekking in NEPAL 2018/2019/2020, Nepal Trekking 2018/2019/2020, Nepal Visit Trekking