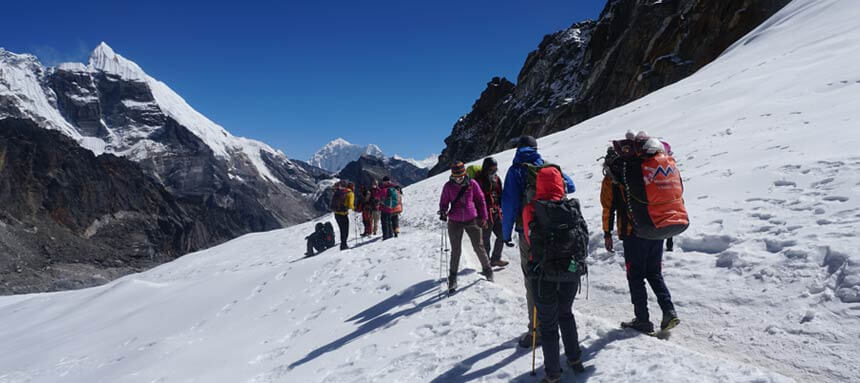 Nepal Trekking in Decemebr
Trekking in Nepal in December
December is the beginning of the winter season. December is a good month for trekking activities in Nepal.
From late December to February, the weather is pleasant during the day. The days are dry and sunny. But in the mountain region, the temperature can drop significantly at night.
Trekking in Nepal in December is possible the whole month. But the first half of the month is usually more comfortable and preferred by trekkers.
Nepal's lower altitude is less cold but the temperature tends to decrease as you go higher. This means that some of the higher elevation trekking is not recommended during December. Only treks below 4000m will be more comfortable and safer.
Most of the Annapurna, Everest and Langtang treks are possible in this month. But some of the other popular trekking areas such as Mustang and Simikot will be closed down after snowfall starts.
As Nepal has a short winter, you can visit the country during the early December for trekking in the Himalayan regions.
In this month, Nepalese farmers harvest paddy and start planting wheat. They also plant potatoes and maize. You will also get a chance to experience the hospitality of the local people in the mountains.
Winter season trekking in December, January and February also offer the great trekking experience in Nepal though the spring and autumn (March – May and Sept – Nov) are knows as the best seasons for trekking in the Himalayas. The winter season probably offers the best clear blue skies in the Himalayas for the best mountain profiles even though it get colder at nights. The great advantage of doing the winter trekking in Nepal is that you will less trekker to explore and enjoys the wonders of Himalayas at its best. We need to be careful in choosing the trekking routes while making a plan to go on winter trek in the Himalaya. Better to avoid the high pass-crossing route as it might get close due the snow fall in January and February. Most of the great trekking itinerary like Everest base camp trek, Everest Panorama in Everest region of Annapurna Sanctuary or Annapurna Panorama trek in Annapurna region or Langtang trek in the Langtang region are doable with great experience. It is also a great opportunity to celebrate the Christ mas and New Year on top of mountain with family and friends in completely different way. Mountain Monarch customizes the winter trekking in Nepal as per your requirements and time available.
Weather Conditions in December in Nepal
Due to diverse geographical features, Nepal's climate also varies from one place to another. In the north, summers are cool and winters are harsh. While in the south, summers are tropical and winters are mild.
In the hilly region (Kathmandu Valley), the climate is mediocre with an average temperature of 2°C to 12°C in the winter. But, in the Himalayan regions, the winter temperature declines to sub zero degrees.