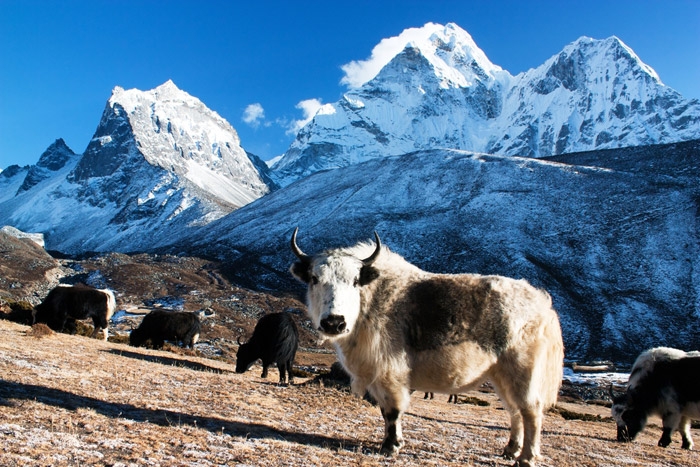 Sagarmatha National Park: MAP AND Details & Entry Fee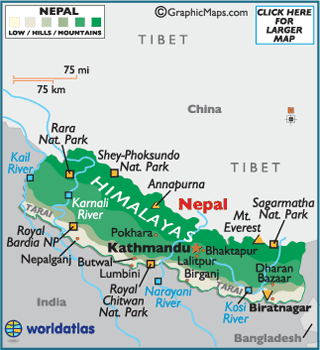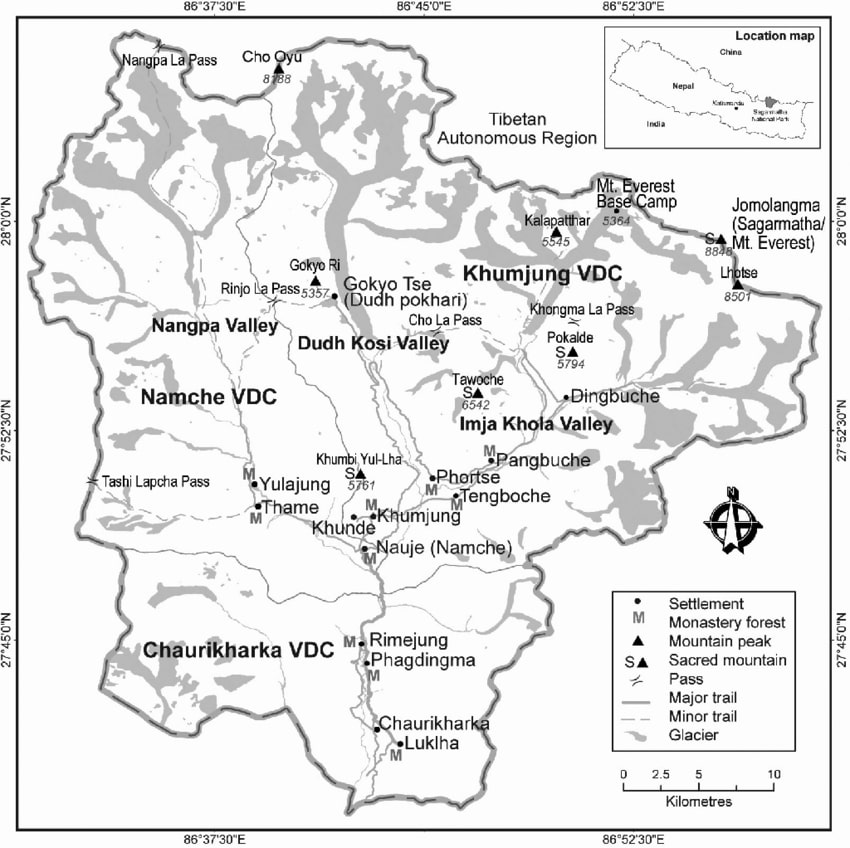 The Sagarmāthā National Park is a protected area in the Himalayas of eastern Nepal that is dominated by Mount Everest.
Encircled by mighty Mount Everest, and other peaks, deep ravines, and Himalayan glaciers; Sagarmatha National Park is one of the most scenic masterpieces on Earth, located in north-east Nepal. Nestled at a distance of 135 km from Kathmandu, this national park is listed as a World Heritage Site by UNESCO and one of the Sacred Himalayan Landscapes. From flora, fauna to spectacular landscape, every aspect of nature's charm is preserved here.
Location and geography of Sagarmatha National Park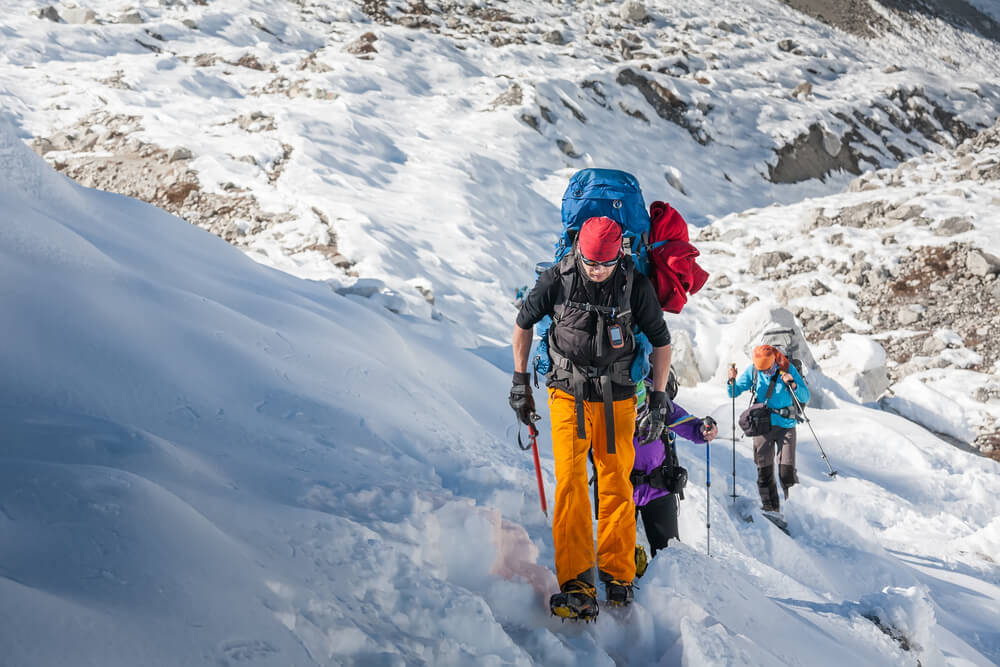 Established in 1976, Sagarmatha National Park is located in Khumbu region of Nepal. It is the first national park of Nepal. Encompassing an area of 1148 sq. km, this bioreserve ranges in altitude between 2845-8848 m. Sagarmatha National Park is bordered by Qomolangma National Nature Preserve of Tibet Autonomous Region in the north and Dudh Koshi River in the south. Sagarmatha National Park became a natural World Heritage Site in 1979.
Climate and best time to visit Sagarmatha National Park
The climate at Sagarmatha National Park varies between semi-arid subtropical to temperate type, with medium to heavy annual rainfall. Summer months are moderate, whereas July to September record heavy precipitation. Winter months are extremely cold and temperature drops below freezing point.
The best time to visit is from October-November and March to May. June to September should be avoided as the place receives heavy rainfall, approximately 1000 mm and makes it difficult for hiking and camping. Winter months starting from December to February are extremely cold and snowfall is common in these months.
How to reach Sagarmatha National Park
Sagarmatha National Park enjoys a remote location and accessibility is quite a challenge. The nearest air connect is at Tenzing-Hillary Airport, Lukla- which is 33 kms away. The best and easiest way is to fly to Kathmandu and then take a short flight (25minutes) to Lukla. From Lukla, one can trek up to the national park. The trail is steep, rugged yet extremely exciting.
Timings and entrance charges of Sagarmatha National Park
The scenic park remains open for 24 hours to offer convenience to all tourists, but it is advisable to visit the same before sunset. Hiking and trekking in dark is a bit risky, owing to the presence of endemic wildlife.
For the entrance, you need to buy an access pass from the visitor centre for Sagarmatha National Park, which is located at Monzo and Namche Bazaar. The pass costs INR 1500 for SAARC nationals, INR 3000 for foreigners and INR 25 for locals of Nepal. Passports are required to issue the access pass.
Flora and fauna of Sagarmatha National Park
The incredible flora of Sagarmatha National Park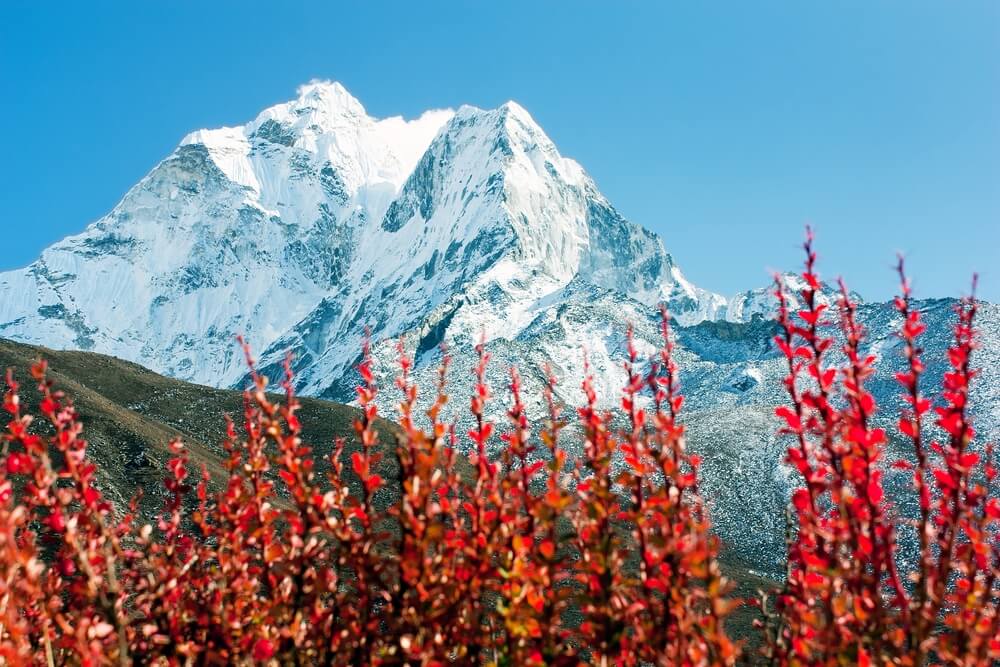 As the national park varies in altitude from 2845-8848 m, one can witness distinct variation in vegetation types. The forests of lower altitudes are dominated by rhododendrons, birch, juniper, blue pines, fir and bamboo. In higher altitudes, dwarf shrubs, mosses, and lichens are found. Rhododendrons bloom in April and May and stay colorful and vibrant till September.
The unique and beautiful fauna of the national park
There is a wide range of wildlife that can be spotted inside the park which includes Himalayan Tahr, Musk deer, Ghoral, snow leopards, wolves, lynx, and weasels. Sagarmatha National Park is the home to almost 1000 plus rare to endangered bird species and some of them are Himalayan monal, Snowcock, Yellow-billed chough, Blood pheasant and Red-billed Chough. This is the reason, why Sagarmatha National Park is coined as an Important Bird Area by BirdLife International.
Things to do in Sagarmatha National Park
1. Hiking through scenic trails
In Sagarmatha National Park, hiking is the most popular adventure activity among the visitors. Rugged hilly trails are present inside the forest and each trail offers excellent views of Himalayan peaks, mountains and valleys. People can access most of the trails on their own but if you hire a local Sherpa, it is certainly better and more effective.
2. Camping in Gyko Lake
If you are fond of adventure and thrill; camping on the banks of the beautiful Gyko lake is an awesome idea. This is a beautiful lake, located in Sagarmatha National Park, which remains frozen during winter. Pitch a tent beneath the open sky and take camping experience to a different level. Though the place offers enthralling views of surrounding mountains and glaciers but seeing the mighty Mount Everest from Gyko Lake is surely a stunner.
Suggested Read: Nepal Honeymoon Guide: Here's What You Need To Plan The Romantic Vacation
3. Trekking up to Mt. Taboche – The Highest Point Monastery
Trekking up to Mt. Taboche is steep and challenging, but as soon as you reach the highest point monastery at Taboche; the surrounding views will surely make your jaw drop and refresh your heart. Taboche monastery is a beautiful stupa and a Buddhism preaching and promotion center. Visit this place to worship, seek blessings and soothe your heart.
4. Viewing Mount Everest from Kala Pathar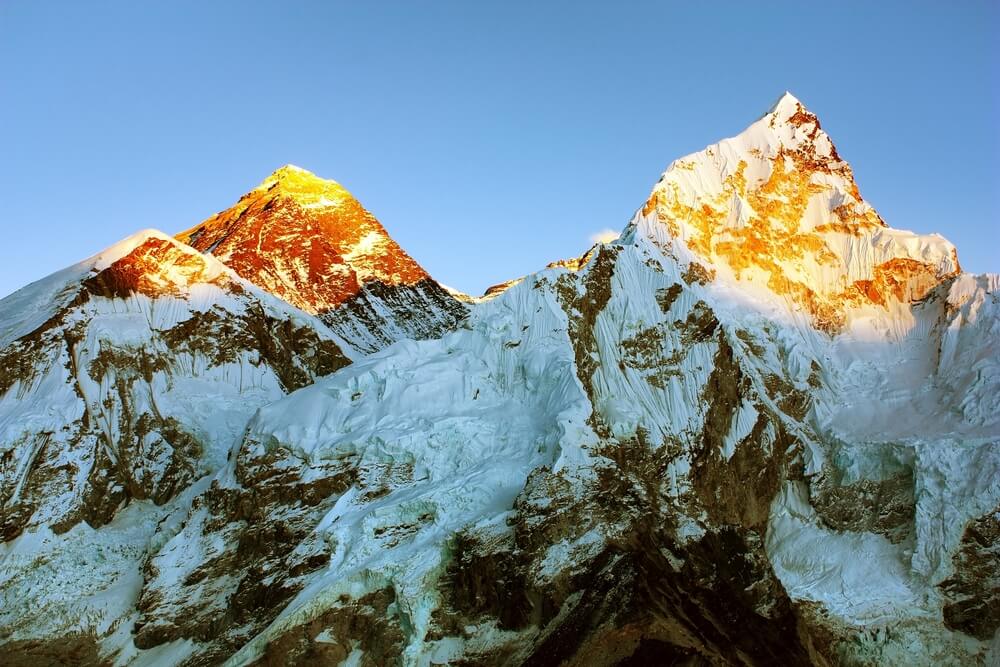 Kala Patthar, located within Sagarmatha National Park is the closest viewpoint of Mount Everest. Located at 5545 m, one needs to experience a steep ascend before reaching this mesmerizing spot. Not only Everest, the spectacular scenery of snow-laden Himalayan peaks and ranges, make the trek, worth in every sense.
Suggested Read: 10 Ancient Nepal Temples In The Serenity Of The Himalayas
5. Chilling by Dudh Koshi River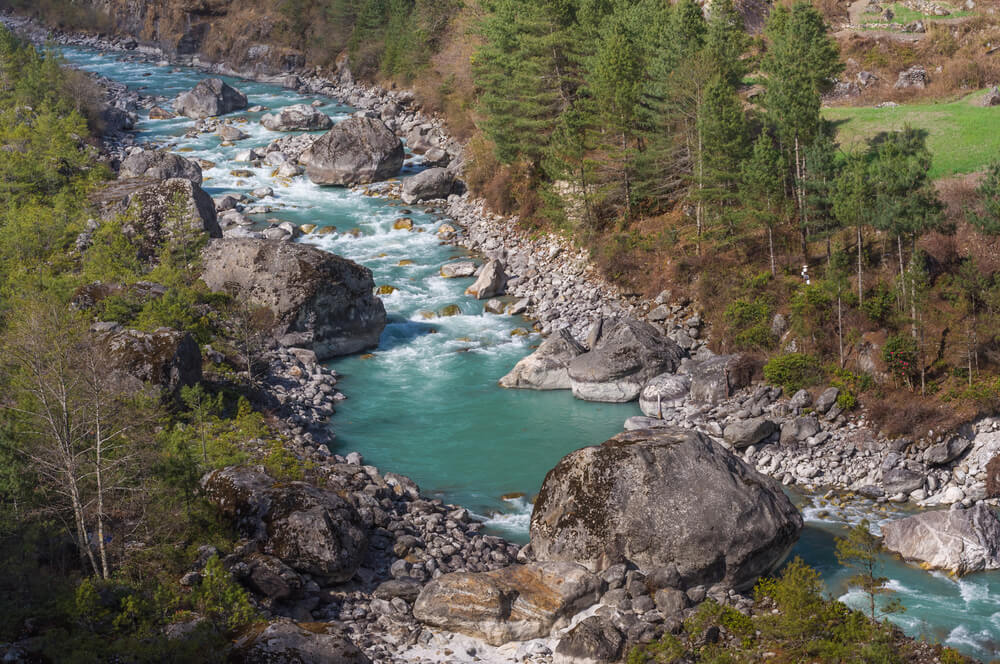 Dudh Koshi River borders the bioreserve in the south and offers the amazing sight of flowing stream over rugged terrain. Spending time on the banks of this forceful river and enjoying the stunning beauty is one of the best things to do in Sagarmatha National Park. There are a lot of suspension bridges over the river, which offer even more amazing views.
Places to stay near Sagarmatha National Park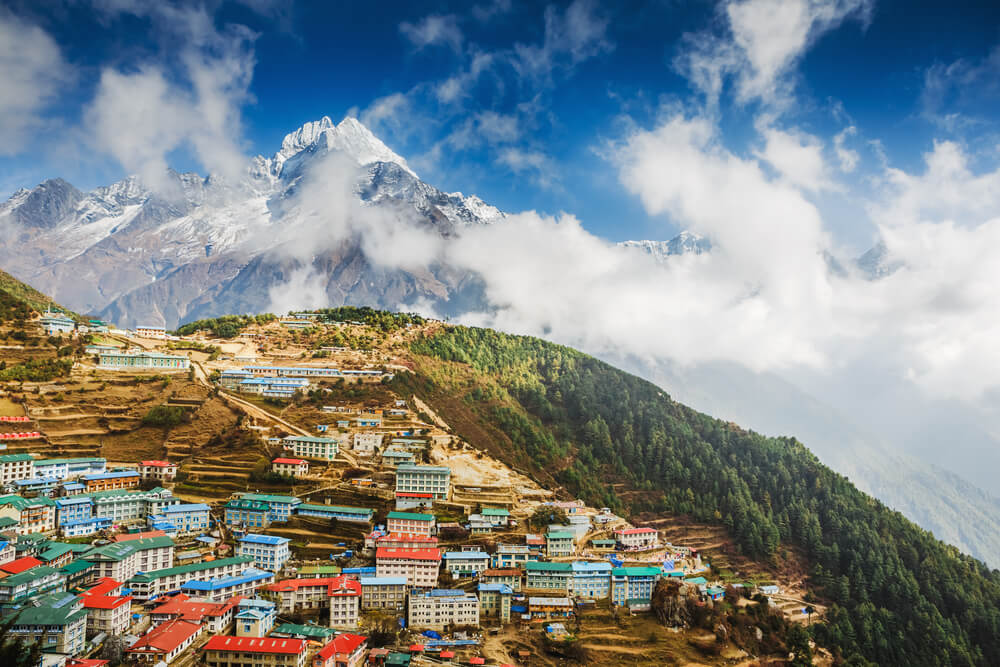 Well, there aren't fully-equipped hotels and resorts near the park, so where to stay near Sagarmatha National Park is a concern that haunts every traveler. But worry not! There are some decent homestays and lodges nearby, that offers comfortable and convenient accommodation with basic amenities. You may book at Yeti Mountain Home Phakding, Thanka Inn, Everest Inn and Hotel Khangri.
Sagarmatha National Park Fee:
For Nepali People: Nepal Rs. 100 (Approx. US dollor ONe per person per Entry
For SAARC Countries : NRs. 1,500 (Aprox. US dollor Fifteen per person per entry
For Foreigner: NRs. 3,000 (Approx: US dollor Thirty per person per entry
Child Discournt: Below 10 Years free of cost
Where to get the permit and to Pay: DNPWC Counter, Nepal Tourism Board, Bhrikutimandap, Kathmandu and At entry point in Monju, Sulukhumbu, Everest Himalaya