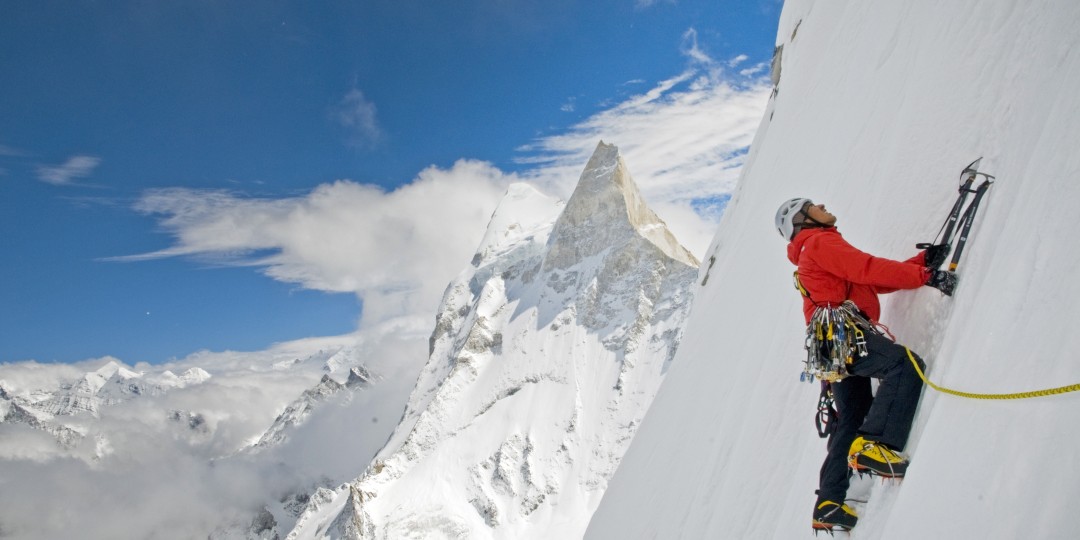 Mountain Climbing in Nepal
Himalaya Climbing in Nepal

Nepal, the 'Land of Mt. Everest' and the country of beautiful mountains is a great attraction for tourists. Mountain Climbing in Nepal is the primary tourism activity and is one of the ways of experiencing nature wonders, spirit of adventure and rich cultural heritage. The great Himalayan ranges justify Nepal a great destination for expedition in Nepal. Novice climbers can enjoy climbing trekking peaks in Nepal combined with trekking. Trekking to Everest base camp being the favorite choice among the trekkers can be combined with climbing to Island peak, Lobuche peak, Pokalde peak in Everest region where as trekking to Annapurna base camp can lead to climbing to Tharpu Chuli peak or Shingu Chuli peak. Trekking to Langtang and climbing to Naya Kanga peak would be an enjoyable adventure in Nepal. More than three thousand snow pinnacles accumulated in the Himalayas of Nepal offer the opportunities for some of the fantastic climbing trips and to name some of them are Amadablam expedition, Manaslu expedition, Baruntse expedition, Dhaulagiri expeditions including the dream trip of Everest expedition.

Nepal Himalayan Sherpa Adventure is a leading adventure company organize mountain climbing in all regions in Nepal and peak climbing on all trekking peaks opened by Nepal Mountaineering Association. We organize full scale Himalayan expeditions in Nepal and Tibet under the expert management of the team who have gained long time experience. Since the establishment of our company in 2011. we have been serving our clients with high quality services. We are locally based thus reasonably priced but our services surpass the international companies.

We propose the world's best mountain climbing break, blessed with world's 8 highest mountain peaks above 8000m among of 14 highest peaks. Excessive numbers of mountaineers visit Nepal to apprehend their dream of standing on the summit of Himalayas. Name of a few adventurous mountains are Mt. Everest, Kanchenjunga, Lhotse, Makalu, Cho-Oyu, Manaslu, Dhaylagiri and Annapurna. 1310 identified Himalayan peaks in Nepal out of which 326 peaks have been opened for mountaineering.

Nepal has amazing present for everyone - the magnificent tumble of great snow high point, monasteries, alpine flowers, villages, forests of rhododendron, remote settlement, small mountain towns, villages, birds, animals, temples and many different people etc. Fascinated people to do expedition require being physically and expressively strong in order to brave the ruthless and challenging journey further on of the mountain expedition.
The main differences in climate of mountains aretemperature and moisture. The temperature onmountains becomes colder the higher the altitude gets. Mountains tend to have much wetter climatesthan the surrounding flat land. Mountain weatherconditions can change dramatically from one hour to the next.

Welcome to Nepal Himalayan Mountain Peak!!