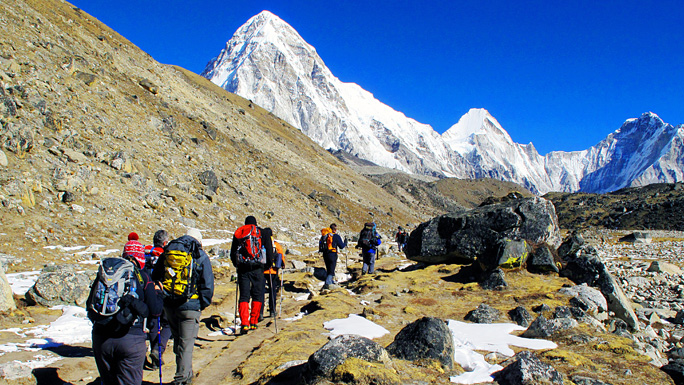 Nepal is an adventure lover's paradise. The country has eight of the fourteen highest peaks in the world, including the tallest – Mount Everest. Trekking in Nepal is a unique experience. Every trekking season, trekkers from all over the world flock to Nepal to walk on the mountainous trails. In most of the trekking routes, one can avail food and accommodation facilities at teahouses or mountain lodges. The trekking trails range from easy to difficult and challenging. There is a trail for everyone; from novices or beginners to the seasoned and hardy trekkers looking for a challenge.
The most popular treks in Nepal include Everest Base Camp Trek, Annapurna Base Camp trek, Annapurna Sanctuary Trek, Gokyo Valley Trek and Langtang Trek. If you want to walk through a challenging trail, then you are better off trekking through Everest Base Camp Gokyo Lakes Cho La Pass and Gokyo Lakes Gokyo Ri Renjo La trails. If you are a first timer trekking in the Himalayas then the Ghorepani Poon Hill Trek or the Langtang Valley Trek is best suited for you. The hills around Kathmandu and Pokhara serve as ideal destinations for short day hikes. If you are in either of these cities and are looking for a hiking adventure, then you can try hiking around Nagarkot or Champa Devi in Kathmandu and Naudanda Sarangkot Hike in Pokhara.
The best months to trek are January to June and October to December. Rainy or monsoon season is known as 'off season' as the trails get dangerous due to the rains. Trekking and hiking in Nepal is fun and full of adventure. There is something for everybody, be it long adventurous treks or short easy hikes, which are equally rewarding.
Best Time to Visit Nepal – When is the Best Time to Go Himalayas?
Generally, the right time for trekking in Nepal is in Autumn from mid of September to November and from March to May but trekking to the Himalayas can undergo all the time in a year. Nepal is one of the best countries for adventure activities like Trekking and Hiking walking into the Himalayas. These are the peak trekking season in Nepal following of dry, moderate temperature and clear mountain views. During this time, the main trails Annapurna, Everest, Langtang and Manaslu routes, flights and accommodation will be busy. But during winter and monsoon season, there are not much trekking trips recommended. Few trekking trips can still be operated during the off seasons. Short treks in Nepal are best during the off-season Winter and Monsoon.
Trekking Styles: Tea House or Camping?
Trekking in Nepal is of two types; tea house trekking and camping treks. During the tea house trekking or lodge trekking, you will stay in a local tea house or lodge managed by local people with the basic accommodation facilities. The trekking styles depend upon the altitudes or elevation gain ie as much as you go higher, availability of tea houses will be less so at high altitudes there will be camping accommodation and the foods will be prepared by sherpa cooks. Upper Dolpo, Kanchenjunga, and Makalu base camp cater camping treks while Everest, Annapurna, Manaslu, Langtang and Mustang are tea house trekking.
Trekking Grades
Depending on the trekking altitude, the difficulty level of trekking can be categorized into three categories; Easy treks, moderate treks and challenging treks. The short and easy trekking trails have the maximum elevation go 1400 meters to 3500 meters and you will walk around the valley and low altitude mountain villages. The trekking duration will be 5-7 days. The moderate treks in Nepal are between 3500m to 5000m whereas challenging treks go above 5000m and takes around two weeks to complete the trek. Nepal has some popular trekking routes like Everest Base Camp Trek, Annapurna Circuit Trek, Poon Hill Trek, Annapurna Base Camp Trek, Manaslu Circuit Trek, Upper Mustang Trek and Kathmandu Valley trek. These trekking packages are highly demanded from all over the world. The highlights of every trek in Nepal involve the fun of walking, Himalayan panorama, lush vegetation and the authentic culture of highland Nepal.