Annapurna Base Camp Hiking-13 Days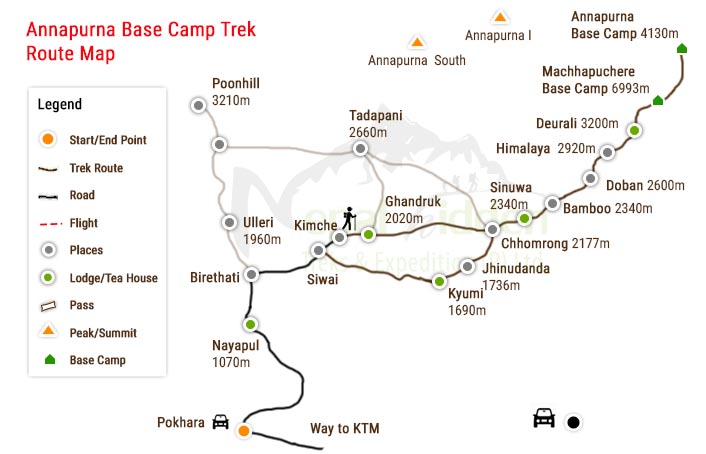 Overview:
Trekking to Annapurna Base Camp
Trekking in Annapurna is without a doubt one of the world's most wonderful destinations- perfect for mountain and nature lovers. Rich in diverse flora and fauna and surrounded by stunning mountains – the Annapurna region has it all.A combination of snow-capped peaks, crystal clear blue lakes, chaotic rivers with deep gorges, sacred Hindu temples and Buddhist monasteries, hot springs, and picturesque vintage villages inhabited by numerous ethnic groups.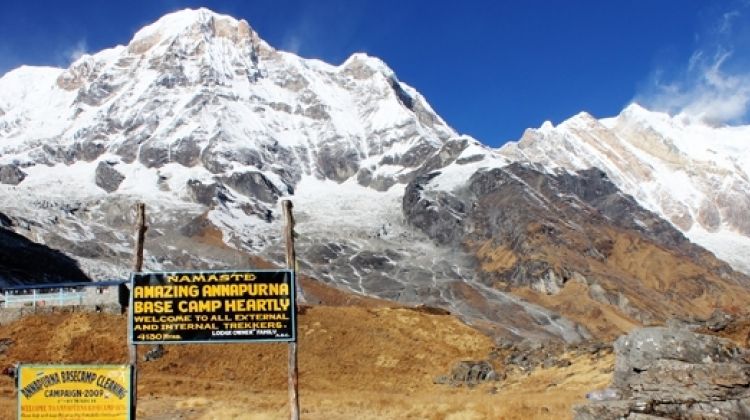 Due to a difference in latitude Anapurna's natural environment is a very diverse one. From sub-tropical forests of: oak, bamboo, pine, sandalwood, magnolia, juniper and rhododendron inside the south region;to the high alpine meadows and windswept barren plateaus up the north. While trekking in the Annapurna you can also encountermany colorful species of butterfly, striking birds,Blue Sheep, Himalayan Tahr, bear, leopard, monkey and many more of a unique local fauna.
Gateway to the Annapurna is a well-known city of Pokhara, described as 'the land of the dreams'. During your journey throughSiklis Valley and Jomsom areayou will experiencea beautiful, traditional Nepali lifestyle and culture. The most famous ethnic groups of this area are:Gurung, Magar, Thakali and Manangi's, known for their hospitality, friendliness and a great sense of humor.
Main picturesque peaks are: Annapurna I (8,091m), II, III, IV; Annapurna South; Mt. Dhaulagiri (8,167m); Mt. Manaslu (8,176m); Mt. Nilgiri; Mt. Machhapuchhre (Fishtail); Gangapurna and several more.The trek's major highlights are:an ancient mid-western salt path settlement of Manang;an extraordinary adventure through Thorong La pass between Nepal and Tibet; the deepest gorge of world Kali Gandaki and the highest lake (Tilicho Lake). You will also get a chance to enjoy a majestic sunshine view from GhorepaniPoonHill view spot; the natural hot springs; big wilderness plateau of Kagbeni and Mustang places;a famous pilgrimage Muktinath Temple and Annapurna Base Camp views.
Details Itinerary
Day 1
Arrival in Kathmandu(1400m.)
Arrival in Kathmandu Internationa Airport . Our Representive will pick you by Car, Trasfer to Hotel in Kathmandu. Overnight Stay at Hotel in Kathmandu.
Day 2
Kathmandu to Tikhedhunga Himalayan Village (1623m.) WALKING distance from Trek start point :9.2km. walk duration 3.3Hours.
Early Morning at 6 AM, leave for Domestic Airport in Kathmandu by Car with Guide, 30 minute flight to Pokhara.
2 Hours Car drive to Nayapul( The Trekking Start Point), We will start Hikinng/Trekking here andafter 30 MINUTE walk, We will Get Check point for TIMS card and Annapurna Conservation Area Project. After Verifying the Permits, We continue the hiking along the trail that continues through the village and follows the north bank of the Bhurungdi Khola. The trail climbs steadily up the side of the valley to Hille at 1,495 m. After a short climb, we reach Tikhedhunga at 1,570 m. Today's walk is relatively short and easy, a prelude to the trekking experience in the Annapurna region.Overnight Stay at Hotel in Tikhedhunga
Day 3
Tikhedhunga to Ghorepani (2850M.), Distance: 12.9 Km. Walking Duration: 6.30 Hours.
After breakfast, early morning we will hike to reach Ghorepani. We will hike through Tikhedhunga (1,577m) and Ulleri (2,070m). At Ulleri, you will be able to witness the exquisite culture of the Magar people. We will walk through the beautiful oak and rhododendron forests to reach the small village called Banthanti (2,250m). After walking for a few hours uphill from there, we reach picturesque Ghorepani (2,840m) . Overnight stay at Hotel in Ghorepani.
Day 4
Ghorepani to Poonhill (3210M.) to Tadapani (2610m.) Distance: 11.2KM. Walking :
Very early in the morning we will hike to reach the beautiful Poonhill (3,210m). Poonhill is famous as the best viewpoint of the grand Annapurna region. The sunrise from here is truly splendid. The view of sunlight pouring into the panoramic mountains such as Annapurna and Dhaulagiri truly is heaven on earth. After spending an hour or two at Poonhill, we will hike down to Ghorepani. After a nourishing breakfast there, we will continue our climb along the ridges through pine and rhododendron forests. It will bring us to Deurali (2,690m). A short incline from there will bring us to our destination for today, Tadapani (2,610m).
overnight stay at Hotel in Tadapani
Day 6
Tadapani to Chhomorong (2340m) to Sinuwa (2300m.) Distance: 13KM. Walking 7 Hours.
Trek from Tadapani to Sinuwa (2,340m) will take around 6-7 hours. Walking down the beautiful rhododendron forests, we will reach a traditional village of Gurungs. Here, you will be able to see the lifestyle and culture of the Gurungs. From here, the trail becomes relatively easy. From there, we will continue our trek to Chhomrung (2,140m). Then after having lunch we continue to hiking to Sinuwa for a night stop.Overnight stay at Hotel in Sinuwa.
Day 7
Sinuwa to Deurali (3200meter) Distance 10.9 Km. Walking 6.30 Hours.
In the morning, we will continue our trek to our next destination, beautiful village of Himalaya hotel. It will take us around 5-6 hours to reach there. Our trail first drops down the river Chhomrung Khola and then elevate through Khuldighar. Here, in the past used to be Annapurna Conservation Area Check Post. We will walk through the forests for a while and then follow the trail steeply downhill towards the bottom of the gorge, Dovan. Then another 1.5 walking to Himalayan hotel (2900m) through the lush green forest.The Hiking trail goes gradually uphill to Deurali. Overnight stay at Hotel in Deurali.
Day 8
Deurali to Annapurna Base Camp (4130m). Distance 16KM. Walking: 8 Hours.
After breakfast, we will start our final destination Annapurna Base Camp (4130m). After a short break and Lunch at MBC , we will again continue our trek to reach our destination Annapurna Base Camp (4,131m). It will take total of five to six hours to reach our destination. We will walk along the Machhapuchhre Base Camp to reach there. Also known as Annapurna Sanctuary, this place is guarded by mountains in all direction. Annapurna Base Camp is two hours walk from there. On reaching Annapurna Base Camp, you will be granted truly overwhelming view of the Himalayas, after witnessing superb sunset in the Himalayas.Overnight stay in Hotel in Annapurna Base Camp
Day 9
Annapurna Base Camp to Bamboo(2300m.) Distance: 13.5KM. Walking 6 Hours
After spending some unforgettable hours with the mountains, we will hike down to beautiful Bamboo. It is around 6 hours walk. We will return following the same trail. Our trail drops by around 1,700m along the bank of Modi Khola to Bamboo at 2,345m. On reaching bamboo, we can go for a short exploration of the place. Overnight stay at Hotel in Bamboo
Day 10
Bamboo to Jhinudanda (1740m.) Distance 11.7Km.Walking 6 Hours.
In the morning we will hike to reach Jhinu Danda. We will make a steep ascent to Kuldi Ghar. From there to Sinuwa, and following the stone steps to Lower Chomrong. Then we will climb up thousand stone steps to reach Upper Chhomrong. Then, we will descend through the steep trail to Jhinu Danda. You can enjoy yourself in the natural hot springs 20 minutes away from Jhinu Danda. Overnight Stay at Hotel in Jhinudanda
Day 11
Jhinudanda to Pokhara (817m.)
Early morning, we will take a Jeep to Pokhara(5 hours drive), check in Hotel in Pokhara, after shower leave for Sarangkot (1700m.) for Paraglading. Sarangkot is renowned for its panoramic Himalayan views Dhaulagiri, Annapurna and Manaslu as well as down on the city of Pokhara and Phewa lake. In recent years, Sarangkot has become a hotspot for paragliding. After 30 minute paragliding above the Pokhara City, then back to Hotel, overnight stay at Hotel in Lakeside, Pokhara.
Day 12
Pokhara to Kathmadu (1400m.) BY Plane: Flight duration 30 minute
Early morning leave for Pokhara Aiport by Car, it takes 20 minute to reach at Airport. We will take a flight to Kathmandu. Its 30 minute flight, we will be in Kathmandu Airport, then we will take a car to Hotel, its 30 minute drive.Overnigh stay at Hotel in Kathmandu.
Day 13
Todays day for sightseeing in Kathmandu Downtwon. We will leave hotel at 6.30 AM, then 20 minute car drive to Swayambhunath Buddhist Stupa and then will visit Baudhanath Stupan then Kathmandu old Durbar Sqaure. The sightseeing will be over in the afternoon. Overnight stay at Hotel in Kathmandu.
Day 14
Leave for Departure to Your Country, Airport Drop off by Car.
Total offer Price per person: US dollor 989
The total offer price does include:
All International and Domestic airport pick up and drop off by car.
Hotel stay in Kathmandu and pokhara
all foods (breakfast, lunch and Dinner ) during hiking in Annapurna Himalaya.
All night stay at Available nice hotel during Hiking
Trekking Permit
Annapurna Conservation Area Permit
Poonhill View Point Entry Permit
Transportation from pokhara airport to trekking start point Nayapul by Jeep and back to pokhara from trek end point Jhinudanda.
1 Expericned Registered Trekking Guide
2 Trekking Supporter to carry your Luggage
Guide's and trekking supporters' All foods, accomodotion,wages,transportation, Entry Permit in Annapurna Himalaya.Paragliding in Pokhara with pick-up and drop-off
Air-ticket for Kathmandu to Pokhara to Kathmandu
A Day tour in Kathmandu city with guide.